Greg Mertz, DVM
Chief Executive Officer
Greg started his career as a research assistant in anthracite coal research laboratory in University  Park, Pennsylvania.  After several months of looking through a microscope measuring Vicker's micro- hardness indices, Greg decided he needed to spend more time outdoors.  He took a job with the Pennsylvania State Park System as a naturalist.  He has been teaching about biology and the out-of-doors ever since.
His passion for life sciences education led him to become a veterinarian.  The Wildlife Center combines his skills of veterinary medicine with his interest in natural history and wildlife biology.  It was Greg's idea to build the Thomas E. Curtis Wildlife Hospital and Education Center.  The design and function of the facility came from the architectural programming of Greg's ideas.
As Chief Executive Officer of the Center he is responsible primarily for its operational, medical and educational programs. He is an integral part of the fund-raising team of the Center.  He serves as the Odd Pet Vet, the New England Wildlife Center's  fee-for-service commercial veterinary practice, originally founded by Greg in 1995.  100% of funds earned help fund the work of the Center.  He treats about 100 species of animals from chickens, pigeons, parrots, degus, rabbits, guinea pigs, rats, mice, hamsters, all manner of snakes, lizards, and turtles, and invertebrates like hermit crabs, cockroaches, tarantulas, millipedes, and scorpions. The Odd Pet Vet has been featured in Discover Magazine, the Boston Globe Magazine, the Patriot Ledger, the Boston Globe, and the Today Show.  Greg was designated the "Best of Boston 2004" for exotic pet medicine by Boston Magazine.  He currently writes a monthly column for the Pet Gazette as "The Cold Blooded Vet," and the author of two e-novels "A Field Guide to Wildflowers," and "(R)evolution"  He is the author of a variety of popular and technical articles about natural history and animal care.
Greg produced and hosted over 150 episodes of New England's Wild Legacy, a cable access television program that incorporated the talents and energies of elementary, middle, high school, and undergraduate students in featuring the biology of local and regional wildlife.  Greg has also taught over ¼ million students in live presentations about biology, geology and veterinary medicine.  He has been on the teaching staff of Mt. Ida College, Dowling College, The National Museum of Natural History at the Smithsonian, and the Tufts-Cummings School of Veterinary Medicine.  He designed and wrote the curricula for the Sevens and As Clear As Mud educational programs that are presented by the Center and used by many of the Boston and surrounding communities' elementary and middle schools.
As the primary veterinary provider for the Center since 1990 Greg has treated or presided over the care of 100,000 wild animals.   In addition to the medical care of wildlife at the Center, Greg is also the lead veterinarian for the Museum of Science in Boston, and Drumlin Farms for the Massachusetts Audubon Society.
Katrina Bergman
Executive Director – Board Member
Katrina joined the Center 22 years ago as development director.  She developed and executed the Center's $8 million capital campaign to construct our new facility  – the Thomas E. Curtis Wildlife Hospital and Education Center, which is the first-in-the-nation wildlife hospital and education center built to Leadership in Environment and Energy Design (LEED) specifications.  Katrina was one of the principle proponents of "going green" and worked with the construction team (staff, builders, architects, engineers and others) to research renewable technologies, to convince donors and lenders that "going green" really was the wave of the future.  When the Center started its process, bank appraisers said that green facilities decreased value because "no one would want to buy a green building".  Led by Katrina, our in house development team of two, raised all capital campaign funds for our new facility through private major gifts and individual donations. In addition to the $8 million she raised for the capital campaign, Katrina has raised over $20 million to operate the Center since she joined the Center in 1993.
She is responsible for raising the Center's operating budget, which is approximately $1 million each year.  Katrina developed and executed all of the Center's fundraising strategic plans and has worked in partnership with the CEO and board of directors to develop and execute organization and program strategic initiatives.  In 2009 Katrina became the Center's executive director.  In partnership with the CEO she developed and implements the Center's fee-for-service plan, which includes the commercial veterinary practice, Odd Pet Vet.  She also continues her responsibilities for day-to-day management of Center staff, organization systems, board recruitment and management, media communication and community relations.  Katrina is also responsible for developing and maintaining relationships with local, state and federal officials, both in Massachusetts and Washington DC.  She holds a bachelors degree from Emerson College, Magna Cum Laude, 1987.
Katrina's other work has included serving as the Massachusetts Tobacco Control Department's spokesperson for an aggressive anti-smoking campaign.  Katrina was featured in statewide commercials, radio public service announcements, build boards, newspapers and on the web.  Some of her work can be seen at fightforyourlife.org
For Katrina, the work at the Center is a cause, not a job.  Her dedication to environmental education and her love of animals developed through the examples of her family.  Katrina's family includes dogs Daisy, Ted and Waffle, cats Skittles, Cheese Kitty and Douglas, has also included iguanas, snakes and rats over the years.

Rob Adamski, DVM
Wildlife Veterinarian – Hospital Chief of Staff and Director of Student Internship Program
Robert Adamski is a native of Buffalo, New York and grew up near Philadelphia, Pennsylvania.  He holds a bachelor of science degree in biology from Delaware Valley College of Science & Agriculture, an associate of science degree in veterinary technology from Harcum College, as well as a bachelor of veterinary medicine and surgery degree from the University of Glasgow in Scotland. Dr. Adamski completed two one year-long internships specializing in wildlife, zoo, exotic companion animal and aquarium medicine.  Dr. Adamski provides medical services for both wildlife and exotic pets, including dental work, surgical procedures, husbandry advice as well as nutritional and behavioral guidance.  He has treated everything from  poison-dart frogs to a bald eagles and every type of exotic animal in between.
At the Center, Rob coordinates and directs the undergraduate internship program.  Students from all over the world attend for 8 to 10 week tours of duty. Rob is the lead wildlife veterinarian for the Center and coordinates the care and release of thousands of wild animals.  He has spear-headed and participated in a number of humane wildlife research projects at the Center including investigations into the outbreaks of parvo virus,
Off duty, Dr. Adamski engages valiantly in a battle of wills while attempting to pacify and herd his two adorable and lovable rescued Canadian tortoiseshell cats. He enjoys hiking, reading and volunteering with the American Red Cross, as well as his local fire department as a first-aid/CPR instructor, firefighter and paramedic and serves in the Army Reserves Veterinary Corps. In his few spare moments, you can find him catching a movie at the local cinema and enjoying a bucket of popcorn large enough to double as a swimming pool.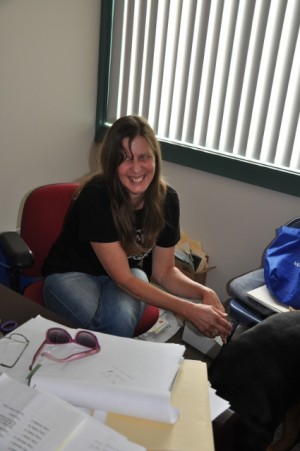 Joan Campbell
Executive Assistant
Joan is executive assistant to the executive director of the Center.  She directly supports the activities of resource development, community relations, staff and board development, and administrative functions.  Joan has the rare combination of having great compassion for animals and also for people. She is tireless in making sure that everyone is adequately acknowledged and thanked for any contribution to the Center. This includes the people who bring us old towels and yogurt cups to those who send in money contributions and those who give their time and energy to the care of animals.
Joan grew up in Norwood, Massachusetts.  She has always had an interest in and a compassion for creatures of all sizes and demeanor.  She started working at an early age and even as a teenager became a waitress and bartender at the Aviano Air Force Base in the foothills of the Alps in Italy.
Before coming to the Center in 2006 as a volunteer, Joan was a full-time lecturer of mathematics at Northeastern University.  She taught the theory of counting, probability and logic for eighteen years.  She was the principal coordinator of freshman math courses.  She also coordinated tutoring for students and provided teaching services to disabled students for the mathematics department.
Joan is an avid gardener and has been an active member for six years of the Walnut Hill Garden Club of Hanover, MA.  Joan and her husband, Bill, have made many chipmunk and snapping turtle lives better.

Stephen Martin
Director of Young People Education & Volunteer Programs- Youth and Adult Special Needs Education Programs – Music and Science Integration Programs – 
Stephen has been at the Center for five years.  While at the Center he is or has been volunteer coordinator, an educator, a naturalist, a musician, a writer, a cage-cleaner, an animal handler, a scheduler of events, a tour guide, and a manager of educational animals.  He is the creator of the Catbird Café, one of the oldest open mics in the Boston area.
The Catbird Café Saturday Night Open Mike just entered its fourth year, having developed into one of the Greater Boston area's fastest rising venues for folk, blues, jazz, poetry and even belly dancing. The Catbird also features special Friday Night Concerts and a Summer Sunday all-ages rock band series. And you never know what wild and wonderful creatures might join the party.
He came to these diverse skills by frequently exploring New England forests and fields with his father, who taught him to identify local flowers, trees, rocks and animals. His dad planted in his heart the seeds that would blossom into his deep appreciation of how all things in nature and the world are connected. Stephen's mantra is "Learn by doing."  His first job was as a summer camp nature counselor and inner-city youth worker. Since then he has worked in other organizations as animal caretaker, a business manager, a writer, a newspaper reporter, a yoga teacher, a public relations expert, and a life-long musician. Thirty of his songs have been recorded by various artists, most notably Orpheus, with whom he also performed during its hey-day as a national and world-renowned rock and roll act.
It is worth noting that Stephen has not just seen the great bands play, he has been a performer and contributor to the rock and roll culture of our age.  He and his bands have played with or been the in the lead performing band for B.B.King, Janis Joplin, The Who and Cream.  He was at the original Woodstock but missed his helicopter taxi because he was under the weather.  Come to the Center any Saturday night and hear Stephen and his musician friends continue the tradition of teaching and leading tomorrow's musicians.
Marco Venturoli
Senior Veterinary Technician
Marco grew up in Bologna, Italy.  He attended and graduated from the A. Serpieri Istituto Tecnico Agricolo, the regional agricultural school.  He worked locally for the Parks and Recreation Department and for a variety of garden centers caring for plants.
He came to America over a decade ago.  He worked briefly for the MSPCA Brockton Shelter and then began working for the Roberts Animal Hospital in Hanover, where he is a well-known veterinary technician.  He volunteered his time and expertise to the South Shore Natural Science Center and to the New England Wildlife Center.  He has been on staff as lead wildlife veterinary technician at the Wildlife Center in addition to working for Roberts, for over four years.    Marco is a great technician with boundless compassion for our patients, but he is also a great educator to our many intern students who come to us from all over the world. Marco is the face of the Center when people bring animals in for care.  Marco is also our principle raccoon caretaker and during the season he can often be seen walking around the grounds of the Center with one or two raccoons on his heels exploring the grass, the tree litter and the pond for seeds, grubs and insects.  Some people have a special touch with animals and Marco is one of those people.
Nina Flaherty-Bellotti
Media Specialist and Administrative Assistant
Nina wears many hats at the Center ranging from media relations to front desk information officer.  Prior to her career at the New England Wild Life Center Nina Bellotti-Flaherty had over 35 years of experience in media and public relations in both the public and private sector.  Nina previously worked in several high volume media/communications post including the Executive Office of Consumer Affairs, under Governor Michael Dukakis, the Massachusetts Attorney General's Office, the Norfolk County District Attorney's Office and more recently for the Honorable William R. Delahunt, Congressman, 10th Congressional District of Massachusetts where Nina served as media consultant and chief fundraiser.
Nina brings a wealth of talent and experience to her position and has been responsible for developing and implementing media/fundraising strategies on both national and local levels.  Nina's maintains a close working relationship with electronic and print media and is widely respected in her field.
New England Wildlife Center Staff