New England Wildlife Center's
                  Exotic Animals Veterinary Clinic 
                            Call us to make an appointment at: 781.682.4878
Reptiles, small mammals, and birds treated, including snakes, lizards, turtles, rats, mice, rabbits, chinchillas, degus, hamsters, gerbils, guinea pigs, parrots, cockatiels, parakeets, pigeons, ducks, doves and chickens.
The Wildlife Center owns the Odd Pet Vet, a 16-year-old exclusively exotic animal commercial veterinary practice. All proceeds go to the Center to help with the care of wildlife and the delivery of education programs. We see approximately 60 species of animals on a regular basis. The more common the animal is, the more commonly we see it. There are several species that are queried about regularly that we do not see. They include: all forms of primates, fish, and African clawed frogs.
An exam fee is $65. If you have two of the same animal, the exam fee is still $63 (that is not a doubling of the fee, but a two for one offer). If you bring three animals or more, the cost is $23 per animal.  If you have twenty of the same animal call us and we will work out an hourly rate.
 Greg Mertz, DVM has over twenty-five years experience treating exotic and wildlife species.

ALL FEES GO DIRECTLY TO EDUCATION AND THE CARE OF WILDLIFE
The Odd Pet Vet is the only exclusively exotic veterinary practice in Eastern Massachusetts. It is the Center's most significant fee-for-service program.
A recent client said that coming to the Odd Pet Vet "is like going to science class."  We treat about a hundred species of animals from chickens, turtles, snakes, lizards, rabbits, guinea pigs, hamsters, gerbils, mice, rats, degus, parrots, pigeons, and a host of invertebrates like scorpions, tarantulas, hermit crabs, and cockroaches.  All proceeds from the Odd Pet Vet go directly to support educational programming and animal care at the Center.  Volunteers and interns often start their learning careers at the Center helping Dr. Mertz with veterinary exams.  The Odd Pet Vet has been featured in Discover Magazine, The Boston Globe Magazine, and the Today Show, and was designated the "Best of Boston 2004" for exotic animal care by Boston Magazine.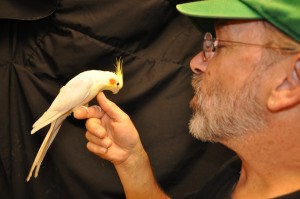 Odd Pet Vet is a subsidiary of the New England Wildlife Center.
Odd Pet Vet