Intern Testimonials:
Nichole Patten
Why NEWC:   I was always interested in wildlife medicine as a career path and with it being my last summer before applying to vet school, I wanted to gain experience with wildlife as well as an internship that would allow me to work in depth with animals. During my search for wildlife internships, I came across NEWC and it seemed to be the perfect fit because it offered everything that I was looking for including hands-on experience which is rare to find in a veterinary internship. NEWC was exactly what I was looking for in order to further my passion for wildlife medicine.
Prior Experience: My past veterinary experience has consisted mainly of cats and dogs with the occasional exotic animal. I have been a volunteer at a no-kill animal shelter where I cared for orphaned kittens and adult cats. I have also interned at multiple veterinary clinics and hospitals for cats and dogs where I observed the vet techs and veterinarians in practice. During my time, I helped in animal restraint, ran "in-house" tests, assisted with emergency services, observed surgeries, prepared surgical packs, and submitted ANTECH lab orders.
What I have Learned: I have learned far more in the short time that I have been at NEWC than what I have learned from all of my past experiences combined. While at NEWC I have learned how to calculate drug doses and draw up medications as well as how to administer them on different species. I have also learned how to properly handle and care for wildlife, how to diagnose some species given the commonality in the types of injuries seen and species identification. I was also taught how to read X-rays, how to wrap certain injuries, what each medication is used for on each animal, diet protocols and so much more.
Future Plans: I am currently applying to Veterinary School for the fall of 2016 and I am graduating from Salem State University with my Bachelor's of Science in Biology in May 2016. I plan on becoming a veterinarian for small animals as well as one who specializes in wildlife and exotics. I am also interested in researching diseases and educating the public about wildlife and bringing awareness to the result of human influence on wildlife.
How Do I Like It: Making the decision to apply for an internship to NEWC despite the long commute has been the best decision that I have made. I look forward to going to work each day that I am there due to the amazing and welcoming staff that NEWC has. NEWC has given me an experience in veterinary medicine that I would have not thought possible and it has re-ensured my desire to become a veterinarian. My knowledge of veterinary medicine has greatly increased due to the staff taking time to teach me as well as the other interns anything that we desired. I cannot think of a better place to intern at because NEWC has given me a priceless experience. If it was not for Dr. Mertz, Dr. Adamski, Dr. Trout, and the vet techs who expanded my knowledge of animals I would not have felt confident and prepared to take on veterinary school.
Joe Cullen
Atlanta, Georgia
Davidson College 16'
In my relentless search for a hands-on, educational experience in wildlife medicine, I came to realize that these experiences are few and far between, especially as an undergraduate student. Experiences are often limited to wildlife rehabilitation or the observation of wildlife from a distance. However, the New England Wildlife Center is unique in that it values the importance of interaction over observation. Such interactions not only foster greater appreciation for the animals treated, but also serve to educate visitors, volunteers and interns in unparalleled ways.
For this reason, I chose to come to the New England Wildlife Center and the Center did not disappoint. NEWC is a reservoir of information and education. It is a place that encourages people to ask questions, learn and take what they have learned elsewhere. As an intern, my knowledge base has increased ten-fold. Dr. Adamski and Dr. Mertz are invaluable mentors who are always eager to teach and educate.
From anesthetizing a Canada goose to drawing blood from a red tailed hawk, I have acquired a whole new set of skills while interning at the Center. After inoculating and medicating animals myself, medication names have also become routine – Meloxicam, Enrofloxacin, Amikacin, Doxapram just to name a few. And NEWC actually teaches you what these medications do and when they are administered. This speaks to NEWC's focus on application-based knowledge. They don't just want you to know the 'what' of a situation, but also the 'when,' 'how' and 'why.'
Throughout my internship, I have found the rearing of our wild animal patients to be most rewarding. To play a pivotal role in an animal's recuperation, survival and/or rearing is both humbling and gratifying. NEWC is a place of education, but it is ultimately a place dedicated to the well-being and care of wildlife. The passion and hard work that all of the staff and interns exude is inspiring and I am thankful to be a part of such an organization.
Taylor Gregory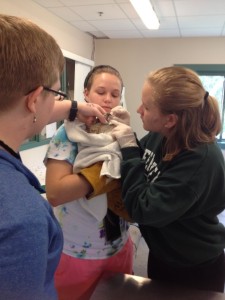 My name is Taylor Gregory.  I am currently a rising junior at North Carolina State University majoring in biological sciences and pursuing my longtime dream of becoming a veterinarian.  After many days of research, applications, and acceptances into summer internship programs, I decided upon NEWC because it seemed to offer the most veterinary medicine related internship.
Since my arrival at NEWC four weeks ago, my expectations for what the internship would offer have been completely blown out of the water every single day.  With some experience in shadowing both equine and companion animal veterinarians, I was expecting an internship where my part would mostly be to restrain animals while the veterinarians give the medications and potentially explain what the medication does or why we are giving it.  I couldn't be happier to say I was wrong with all of my expectations.
My first day at NEWC was a whirlwind of organized chaos.  Thrown directly into Med Ward, I was giving subcutaneous fluids, oral medications, calculating dosages, and catching/restraining wild birds while having more relevant information than some of my college courses offer thrown at me.  And this was all in the first four hours of what turned out to be an eleven hour day.  From there I was taught how to tube feed a raccoon, do blood work, and many more things that no longer stick out in my mind because they have become so commonplace in my day to day life.  Since my first day I have gained a bounty of knowledge including feeding all types of orphaned wildlife, taking x-rays, different types of surgeries, what chemicals will actually kill maggots that are pulled off of animals suffering from fly strike, how to properly restrain various types of wild animals, how to give subcutaneous injections in mammals and birds, how to give intramuscular injections to mammals, birds, and reptiles, information that I was supposed to learn in my college level courses, and many more things that have also become so ingrained into me that I cannot remember not knowing them.  On special occasions I have been able to perform necropsies on a raccoon, an eastern gray squirrel, and a common grackle.  These necropsies have taught me more about the anatomy of various species because Dr. Adamski took the time to go over each necropsy with all the interns and had us tell him not only what killed the animal, but also what each organ was/did.  The method of having the interns explain the purpose of various things is used as a teaching tool throughout all aspects of the hospital as we are quizzed about medications, bloodwork, anatomy, behaviors, and many more things everyday by all of the veterinarians and the veterinary technicians.
Beyond the obvious educational components, NEWC had also given me the experience of working with very different veterinarians who treat all the animals differently.  I believe that this is really important because it really highlights that there is more than one way to do things and shows all the interns the different ways.  Dr. Adamski, Dr. Mertz, Dr. Trout, and all of the veterinary technicians are beyond amazing at what they do, but their different perspectives on how to do it is very eye opening to the types of treatment and I feel as though my education at NEWC has benefitted from that.
Because I have interned at NEWC, my life goals and practice goals have changed slightly.  I am still planning on having my mobile and clinical companion animal and equine practice, but instead of having the odd wildlife or the every once in a while exotic pet, I want to make these a daily part of my practice.  Working here 50 plus hours a week for no pay has been the most rewarding experience of my life and if I could do it all over again I would make sure that I spent more time at NEWC, even if it was only a couple of days.
Intern Testimonials