Greg Mertz, DVM
Chief Medical and Program Director
Chairman, NEWCS Board of Directors
Greg started his career as a research assistant in anthracite coal research laboratory in University Park, Pennsylvania.  He took a job with the Pennsylvania State Park System as a naturalist.  He has been teaching about biology and the out-of-doors ever since in many museums and nature centers including the Smithsonian Institution.  His passion for life sciences education led him to become a veterinarian.  New England Wildlife Centers combines his skills of veterinary medicine with his interest in natural history and wildlife biology.  Greg is responsible primarily for its operational, medical and educational programs. He is an integral part of the fund-raising team of the Center.  He serves as the Odd Pet Vet, the New England Wildlife Center's fee-for-service commercial veterinary practice, originally founded by Greg in 1995.  100% of funds earned help fund the work of the Center.  He readily treats 300 species of animals.  He is the author of a variety of popular and technical articles about natural history and animal care. As the primary veterinary provider for the Center since 1990 Greg has treated or presided over the care of 100,000 wild animals.   In addition to the medical care of wildlife at the Center, Greg is also the lead veterinarian for the Museum of Science in Boston, and Drumlin Farms for the Massachusetts Audubon Society.
Katrina Bergman 
President 
Board Member 
Katrina joined the Center 30 years ago as development director following years of work in criminal and social justice reform in Boston.  She developed and executed the Center's $8 million capital campaign construct our new facility – the Thomas E. Curtis Wildlife Hospital and Education Center, which is the first-in-the-nation wildlife hospital and education center built to Leadership in Environment and Energy Design (LEED) specifications. She participated in and oversaw every aspect of the construction. In addition to the $8 million she raised for the capital campaign, Katrina has raised over $30 million to operate the Center since she joined us in 1993.
Katrina spearheaded NEWCS efforts to save the Cape Wildlife Center from closing in 2016.  She developed and implemented strategies with the management team and board of directors.  Working closely with the Humane Society of the United States and the Pegasus Foundation, the facility and land where donated to the Center.  Katrina raised just $2 million to ensure the project could go forward.
In addition to raising money, she is responsible for oversight of all management and personnel matters at NEWC. She is responsible for raising the Center's operating budget, which is approximately $2 million each year. Katrina develops and executes all of the Center's fundraising strategic plans and works in partnership with the board of directors and NEWCS management team to develop and execute organization and program strategics.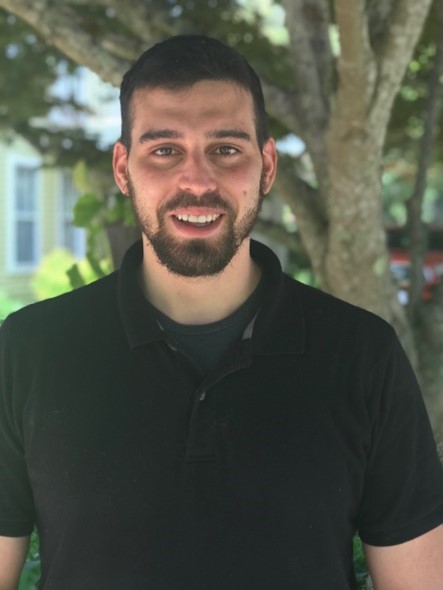 Zak Mertz, MS
Chief Executive Officer
Zak is a principal educator, researcher, manager, curricula developer, fundraiser, and wildlife care giver. Zak has extensive experience in fundraising, public & government relations, public health, and program management. Zak holds state and federal rehabilitation permits and regularly participates in patient care and donates his time to answer the wildlife emergency line after-hours. Zak has spent his life caring for animals and is committed to protecting the wildlife of Massachusetts. Zak holds a Master of Science from UMASS Boston with a concentration in hydrology.
Dr. Priya Patel, BVM MRCVS
Wildlife Veterinarian
Priya's passion for wildlife medicine and rehabilitation first started during an undergraduate internship at New England Wildlife Center (NEWC) in 2007. It was that inspiring summer that put her on the path to pursuing a career in this field. Priya graduated from the Royal Veterinary College of London in 2014 and then completed an internship in wildlife medicine and conservation at Tufts University Wildlife Clinic. There she developed a specialized interest in avian medicine and surgery. She then returned to NEWC as a part-time vet and now is very excited to work full-time at Cape Wildlife Center.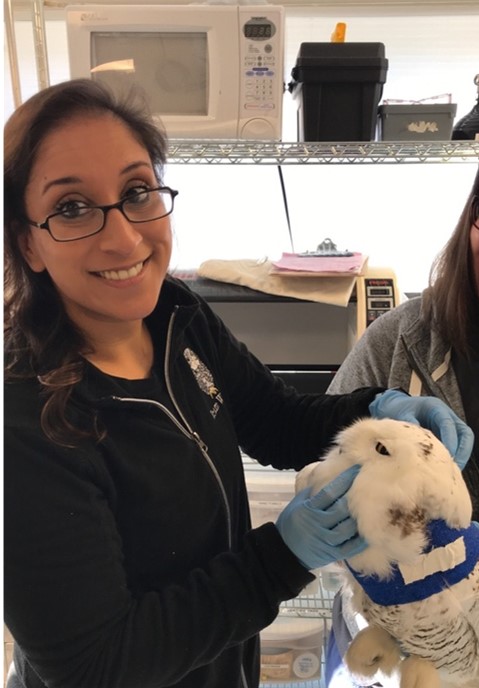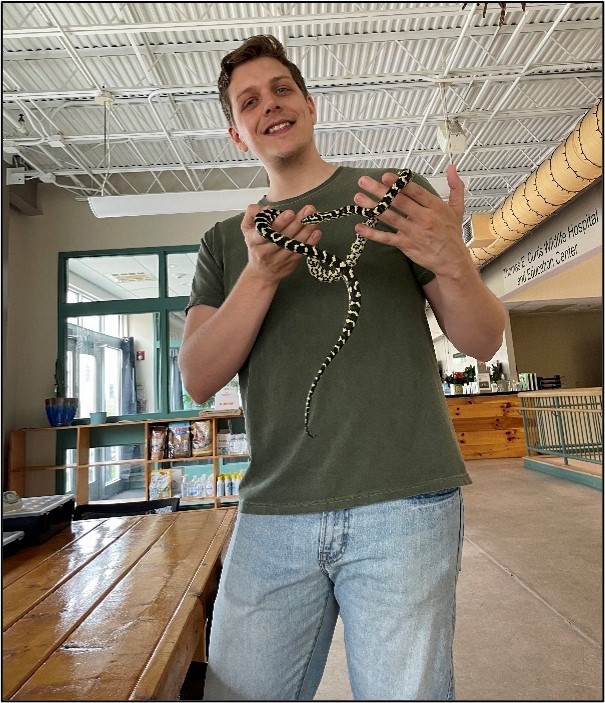 Jack Banagis
Director of STEM Education
Jack Banagis is the Director of STEM education at New England Wildlife Centers, where he has worked for the past two years. He received his undergraduate degree in Biochemistry and Molecular Biology from the University of Massachusetts Amherst in 2014. After graduation, Jack pursued a career in research, working as a lab technician at MGH in the Brain Cancer research center. His work was published in the online Neuro-Oncology journal for his work with Sirtuin activated IDH-mutant cancers. From there he went to work as a research associate at the Broad Institute in Cambridge, MA. He supported work in the drug development pipeline as a cell culture specialist.
Throughout his career, Jack has always had a passion for the outdoors. He has worked part-time as a horticulturist, preparing large vertical hydroponic systems, and as a naturalist creating environmental STEM programming for students K-12. Jack won the Secretary's award for excellence in environmental education in 2016. Jack's diverse experiences have equipped him with a wealth of knowledge in science, education, and the environment, making him a valuable asset to his current role. In his current position, Jack is responsible for leading STEM education initiatives and programs for New England Wildlife Centers. His work focuses on providing hands-on learning experiences that help students develop a deep understanding and appreciation for science and the natural world. Jack's dedication to education and the environment has helped to inspire a new generation of scientists and conservationists.
Heather Gallagher Byrnes, MPA
Director of Development
Heather has worked at New England Wildlife Centers for almost four years and has worked in program management and fundraising for over 13 years. Heather received her undergraduate degree from UMASS Boston in American Studies where she got involved in grassroots community organizing. She worked in the private sector for a number of years in the legal and engineering fields, but made the decision in 2009 to dedicate herself to the nonprofit sector full time. Heather attended Bridgewater State University where she earned a Masters in Public Administration concentrating in Nonprofit Management. Over the years, Heather has worked with a number of different organizations and has honed her skills in fundraising, event planning, grant writing and program implementation.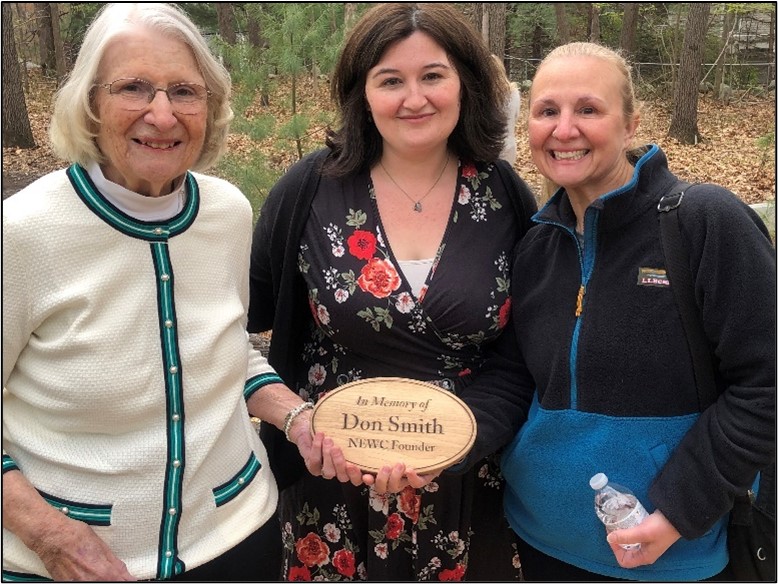 Tess Gannaway
Veterinarian
Dr. Tess Gannaway hails from nearby Providence, Rhode Island. She attended Barnard College at Columbia University in New York City for her undergraduate degree during which time she was an intern at NEWC . After graduation, she returned to the area and attended Cummings School of Veterinary Medicine at Tufts University. During her time at Tufts, she traveled to various continents to study disease transmission between humans and animals with a focus on the concept of "One Health" (the interconnectedness of environmental, animal and human health – NEWC's founding principle!) and gender.
After graduating veterinary school, Dr. Gannaway completed a small animal medicine and surgery internship in Tucson, Arizona with a focus on emergency medicine and trauma. Although she fell in love with the desert, she returned home to the East Coast to be closer to her family. Dr. Gannaway's special interests include One Health research with a focus on social determinants of health related to gender and sex and how these affect zoonotic disease transmission from exotic pets and wildlife to their adjacent humans. She also has a strong interest in emergency medicine, and palliative/end of life care.
Outside of the clinic she spends her time running (VERY slowly for long distances in the woods or desert), swimming, and going on adventures with her geriatric desert rescue poodle Creature, who you can see wandering around the clinic on any given day, living the life.
Jean Fournier
Veterinarian
Jean graduated from Salem State University in 2009 with a Bachelor of Science in Biology and a minor in Chemistry. She worked in the laboratory at Union Hospital through her college career until leaving for veterinary school in the Caribbean. Jean had an externship at New England Wildlife Center in the spring on 2012 after which she continued to volunteer on a weekly basis and was offered at technician position at the end of that summer. She also began volunteering at the National Marine Life Center in the fall of 2014 helping to care for injured seals and sea turtles. Jean went to Ross University School of Veterinary Medicine in St. Kitts and had her clinical year at Louisiana State University. She graduated veterinary school in the beginning of the pandemic January 2020 and worked at North Shore Animal Hospital from April 2020 until its closure in December 2022. She returned to the New England Wildlife Center as a practicing veterinarian in August of 2022. Jean also works at Braintree Veterinary Care. She has a strong interest in shelter medicine and aquatics as well as exotic companion animal medicine. Her passions outside of work are reading, crochet, and travel.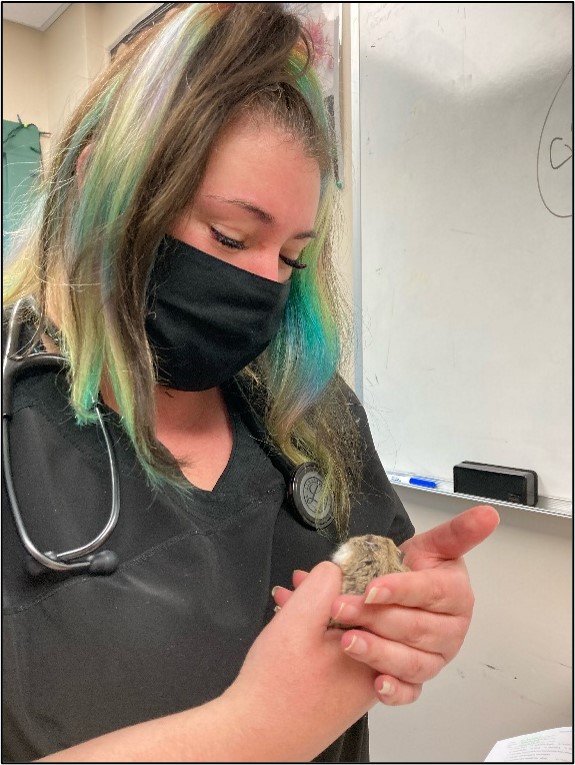 Nina Bellotti-Flaherty
Assistant Director
Nina wears many hats at the Center ranging from media relations to front desk information officer. Prior to her career at the New England Wildlife Center Nina Bellotti-Flaherty had over 40 years of experience in media and public relations in both the public and private sector. Nina previously worked in several high-volume media/communications post including the Executive Office of Consumer Affairs, under Governor Michael Dukakis, the Massachusetts Attorney General's Office, the Norfolk County District Attorney's Office and more recently for the Honorable William R. Delahunt, Congressman, 10th Congressional District of Massachusetts where Nina served as media consultant and chief fundraiser.
Nina brings a wealth of talent and experience to her position and has been responsible for developing and implementing media/fundraising strategies on both national and local levels. Nina's maintains a close working relationship with electronic and print media and is widely respected in her field.
Kerry Batchelder, CVT
Hospital Manager Certified Veterinary Technician
Kerry is a certified veterinary technician with a master's degree in mental health counseling. Kerry has worked at New England Wildlife Centers for two years. Kerry's special interests include social and environmental justice, teaching communication skills and bats.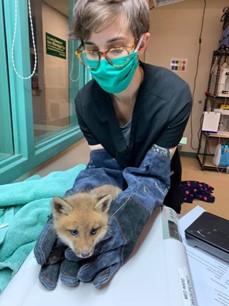 Brett Hale
Care-based Science Education Facilitator
Brett is our care-based science education facilitator. She graduated from Boston College in May 2022 and came back to NEWC after interning with us during her high school years. She teaches a variety of people about native wildlife and animal care through hands-on learning experiences with our educational animals. She works closely with people with developmental and mental disabilities who volunteer with us weekly, gaining valuable work experience, and Brett fosters opportunities for them to interact with the animals and learn about animal care while volunteering with us. She is also our volunteer coordinator and helps facilitate community events. Working in the education department she also helps with tours, field trips, off-site education programs, and care for educational animals. Outside of work she is on the board of trustees at the Kerry Jon Walker Fund and serves on the Advisory Committee for Dove Inc. She has two dogs and loves spending time with them.
Robyn Rohm, CVT
Certified Veterinary Technician
Robyn is a certified veterinary technician and licensed wildlife rehabber. She graduated from Joliet Junior College in 2015 with a degree in veterinary medical technology, and moved from Illinois to Massachusetts in 2016 to pursue her dream of rehabbing wildlife. In addition to working at CWC, She also works with avian/exotic companion animals at a busy emergency hospital in Weymouth. In her spare time she enjoys hanging out with her pets, hiking, and live music.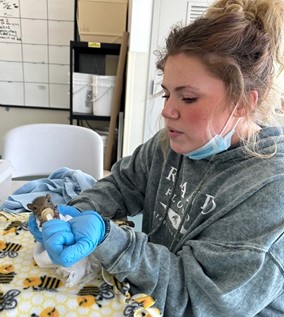 Meaghan Still, CVT
Certified Veterinary Technician
Meaghan is a Certified Veterinary Technician and Licensed Wildlife Rehabilitator. She graduated from Massasoit Community College in 2021 with a degree in Veterinary Technology. Meaghan splits her time between our Cape hospital and our Weymouth location/Odd Pet Vet. She was born and raised in West Barnstable and has a great appreciation for the native species and environment. She has a passion for wildlife medicine as well as exotic companion animal species. In her spare time she enjoys camping, hiking, and spending time with her family and pets, Maizie (cat), Pretzel (Ball python), and Reptar (Bearded Dragon).
Jenna Silva
Rescue Operator/Veterinary Technician
 Jenna is a veterinary technician at Cape Wildlife Center and an Animal Control Officer for Falmouth MA. She graduated from Paul Smith's College in 2014 with a Bachelor's of Science degree in Wildlife Sciences. Prior to that she graduated from Bristol County Agricultural High School in Dighton Massachusetts in 2010 with a concentration in Natural Resources Management. Jenna worked as a research technician with the Audubon Society and with Mass Wildlife researching various shorebird and seabird species. This fostered her love for wildlife and the outdoors.  She takes every opportunity she can to spend time out in nature.
Joseph Rinaldi
Facilities Manager
Joseph is the facilities manager for our Weymouth Center, as well as support for our Cape Wildlife Center. Joseph has been on staff for three years after moving to Massachusetts from Maine where he gained extensive experience in facilities management, landscaping and operational management.
Kristin Walsh
Bookkeeper
Kristin has been with NEWCS for the past 6 years and grew up in Quincy and attended Quincy High School, Aquinas Jr. College, and Umass Boston. Kristin has worked in nonprofits for 10 years at Vinfen Corporation and the May Institute as a business manager. For the past 20 years she has worked with many small businesses as a bookkeeper. In her spare time, Kristin loves watching kid's sports events (hockey, football, basketball & volleyball), boating, golfing, biking, kayaking, and an avid Patriots & Bruins fan. 
Caryn Ritchie
Volunteer and Program Coordinator (Barnstable)
Caryn has worked in the field of psychiatry in an individual practice for the past 40 years. She is trained as an Advanced Practice Registered Nurse (APRN) in psychiatric nursing, with a graduate degree from Boston College.  She is married with two adult sons, a granddaughter and a Golden Retriever. Throughout her life she has always found a way to work with and own a variety of animals.  She has volunteered at a veterinarian's office, worked in a local zoo, raised miniature horse and dogs, worked at Wildtracks in Belize, a manatee and primate rescue and rehabilitation facility and eventually found her way to Cape Wildlife Center.
At the CWC, she began as an animal care volunteer in 2013 and in 2017 took on a more active administrative role as the volunteer coordinator, in addition to continuing with animal care.  In October 2017 she passed the Massachusetts State exam and is now a state and Federally Licensed Rehabillitator. 
New England Wildlife Center Staff