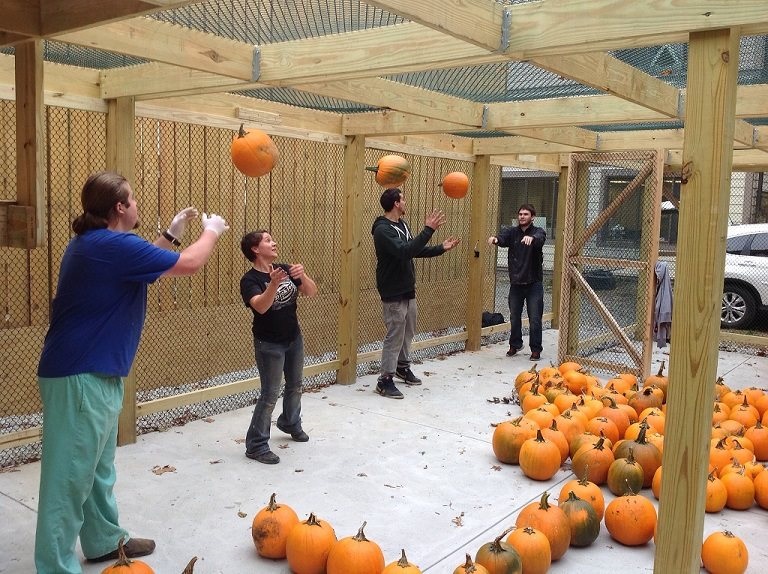 Thank You For Your Interest in Volunteering at NEWC!
As a small non-profit organization, we rely heavily on community support to continue our mission of providing critical veterinary treatment to sick, injured, and orphaned wildlife and engaging, hands-on science education for students of all ages.
PLEASE NOTE: Volunteers do not work directly with the wildlife present in NEWC's wildlife hospital.
Volunteering at the Center is doing something for the community, especially the community of wild animals that live in and among our neighborhoods. There are no age barriers for volunteers; anyone of any age can participate.
If you are interested in volunteering, please take a look at our upcoming volunteering events and opportunities below.
QUESTIONS? Please contact Jack Banagis, education and outreach coordinator, at jack.banagis@newildlife.org.
Volunteering Events and Opportunities at New England Wildlife Center
July 1 2022 – VOLUNTEERING REOPENING – LIMITED NUMBER AVAILABLE.
Greetings Everyone
Thank you for your interest in volunteering at New England Wildlife Centers. We are excited to announce that we are once again accepting volunteers to support the work of our veterinarians and technicians as they care for our many sick, injured and wild animal patients. Volunteers are typically responsible for helping keep commons areas clean and sanitary, will help organize and do the laundry, will help with small garden projects, as well as other odd projects as needed. You will also help assist in the care of our many educational reptiles, giving food and enrichment. Volunteers do not work directly with the wildlife present in NEWC's hospital.
To volunteer, email Jack Banagis (Jack.banagis@newildlife.org) indicating your interest, and please provide the best email, phone number and full names and ages of those looking to volunteer and what days you might be available from Monday – Friday between 9 AM and 3:30 PM. We accept Children ages 12+ to volunteer alongside parents, or directly with Jack the volunteer coordinator. We are currently not accepting weekend volunteers.
Volunteer program will begin as early as July 1st, allowing the first volunteers to begin hazmat training, and to get up to speed in our building. Again, Email us to get started. We will be scheduling volunteers for 2 month segments to start, which allows a rotation of all interested parties to get a chance to help out. Thanks so much for thinking of us!! We look forward to working with you!
Best,
Jack
Volunteer