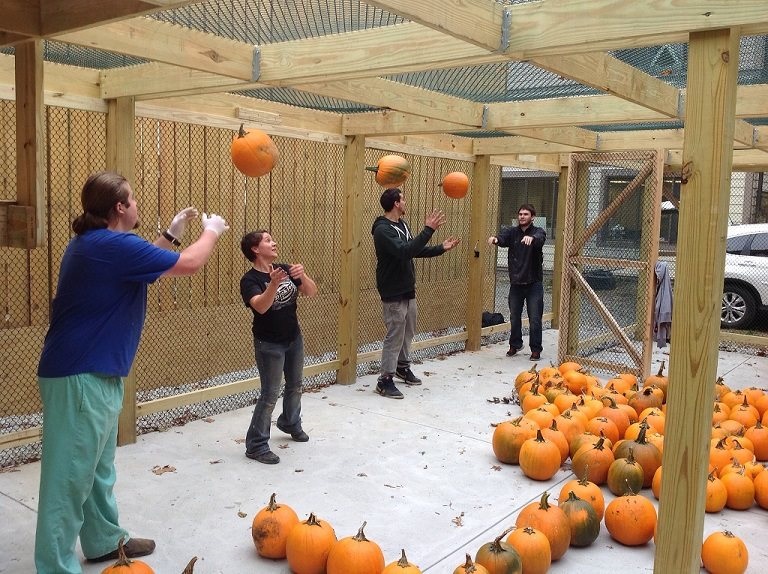 Thank You For Your Interest in Volunteering at NEWC!
Volunteer Events for Summer 2023
Join us for an exciting volunteer event at the New England Wildlife Center! As part of our summer volunteer series, we invite you to make a difference in animal care by lending a helping hand at our hospital.
Date: June 8th
Time: 1:30 pm – 3:30 pm
During this event, you'll have the unique opportunity to work alongside our dedicated staff and interns. Together, we'll clean our outdoor flight pen and trails, organize donations, and provide enrichment for our educational animals, allowing them to bask in the warm sun.
But that's not all! We have more events lined up throughout June and July, so be sure to check back for additional dates. If you're eager to join us, simply email us at volunteer@newildlife.org to reserve your spot.
As a token of our appreciation, we'll be serving snacks and refreshments to keep you energized and refreshed throughout the event.
Make a meaningful impact on animal welfare and be a part of our volunteer community at the New England Wildlife Center. Your dedication and support will make a real difference. We can't wait to see you there!
Note: Please dress comfortably and bring sunscreen and water for your own comfort.

Greetings Everyone, Volunteer Groups/Individuals
Scheduled Regularly
Thank you for your interest in volunteering at New England Wildlife Centers. We are excited to announce that we are once again accepting volunteers to support the work of our veterinarians and technicians as they care for our many sick, injured, and wild animal patients. Volunteers are typically responsible for helping keep commons areas clean and sanitary, will help organize and do the laundry, help with small garden projects, and other odd projects as needed. You will also help assist in the care of our many educational reptiles, giving food and enrichment and assisting in daily animal care and animal husbandry. Volunteers do not work directly with the wildlife present in NEWC's hospital.
To volunteer, email Brett Hale (brett.hale@newildlife.org), indicating your interest, and please provide the best email, phone number, and full names and ages of those looking to volunteer and what days you might be available from Monday – Friday between 9 AM and 3:30 PM. We accept Children ages 12+ to volunteer alongside parents or directly with Brett, the volunteer coordinator. We are currently not accepting weekend volunteers. Currently, our volunteer program is only open for occasional project-based needs. We will reach out as needed for help on projects.
Again, email us to get started. Thanks so much for thinking of us!! We look forward to working with you!
As a small non-profit organization, we rely heavily on community support to continue our mission of providing critical veterinary treatment to sick, injured, and orphaned wildlife and engaging, hands-on science education for students of all ages.
PLEASE NOTE: Volunteers do not work directly with the wildlife present in NEWC's wildlife hospital.
We plan to have volunteer events for the Summer 2023 check in with us regularly or check us out on Facebook!
Volunteer